There's another thing I don't get about this Women's Leadership Institute business (of which WLI proper is only the top fish in the bucket). Something that's come up a time or two here at CSPP is that fruitful multiplication is, you know, challenging. That's true whether you do it once or thirteen times, or in a lifetime throughout which that gift is withheld, and regardless of your hermeneutical approach to "be fruitful and multiply."
Now, I am a huge wimp and as such want to get as much sympathy as possible for my pains. So when I hear clucking about women "being allowed" to do more, the first thing I want to ask is what the heck I'm doing right now and why it isn't good enough. Respected eldresses, don't you have the same scars I do? Weren't you as tired as I am? Didn't you feel as alone and overwhelmed and unappreciated? Weren't you flattened by hopelessness when you saw how shamefully unequal you were to this calling? Didn't you have to fight against the pride and contempt that threatened your soul when you considered your hardships in comparison with . . . other people?
But apparently it really isn't good enough. Apparently women need "leadership" too. Kids, you were just an aggravation necessitated by conventionalism, a sidebar to the real me. I suffered purgatorially to sustain your life; raised you hour by lonely hour because that's what people do, but now I'm ready for something that matters. Now that I've got you over with, here come my opportunities and my props. I mean, my ministry and service and stewardship of my unparalleled gifts.
The poor esteem in which the draining work of motherhood is held by mothers is absolutely staggering. I mean, it makes no sense! Demand less, girls! If we say it's not enough, the world is all too eager to wring more out of us. Sheesh!
Anyway. Here's what I like about my husband besides his mad skills and how he looks in a rose chasuble. A while ago I asked him what I'm going to do with myself a million years from now after all these babies grow up and move out. I have a teaching degree but zero desire to use it in any professional sense, not to mention that with all the continuing education and certifications and licenses and whatever other fabricated hoops will exist by that time I'll be pretty un-employable. Visions of becoming a 58 year old Sandwich Artist started dancing in my head.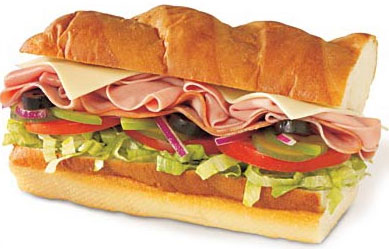 Ham ministry is ministry too.
He looked at me like I was an idiot and said, "Read books and make my supper." No speech about using my gifts. No plans for me to finally start contributing to our retirement savings. Not even any bogus encouragement about pursuing my dreams or, worse, getting serious about ministry at long last. He sees what I do, and he knows I've got a break coming one of these decades, DV.

Should God see fit to grant me that break, I certainly look forward to reading books and making supper for my much adored husband. But I also hope to spend lots of time as a postpartum doula for my daughters and daughters-in-law. I hope to spend lots of time with my grandchildren. I hope to pick up some of the slack at our church, wherever that may be, because all churches have slack to pick up.
For now, though, I hope that more sisters in Christ will recognize that the work God has given us most directly and plainly is a fire deliberately appointed to consume the dross of the daughters of Eve; that he intends for us to reap from that work fulfillment rather than discontentment and bitterness; that we would find our identities by utterly losing them; that we would embrace our crosses in humility rather than bloating our grotesque ambition with gaseous pride. Sorry, leading ladies. This is our primary duty, and although I may not always like it, I do love it, for what can one do but love what God has given her?